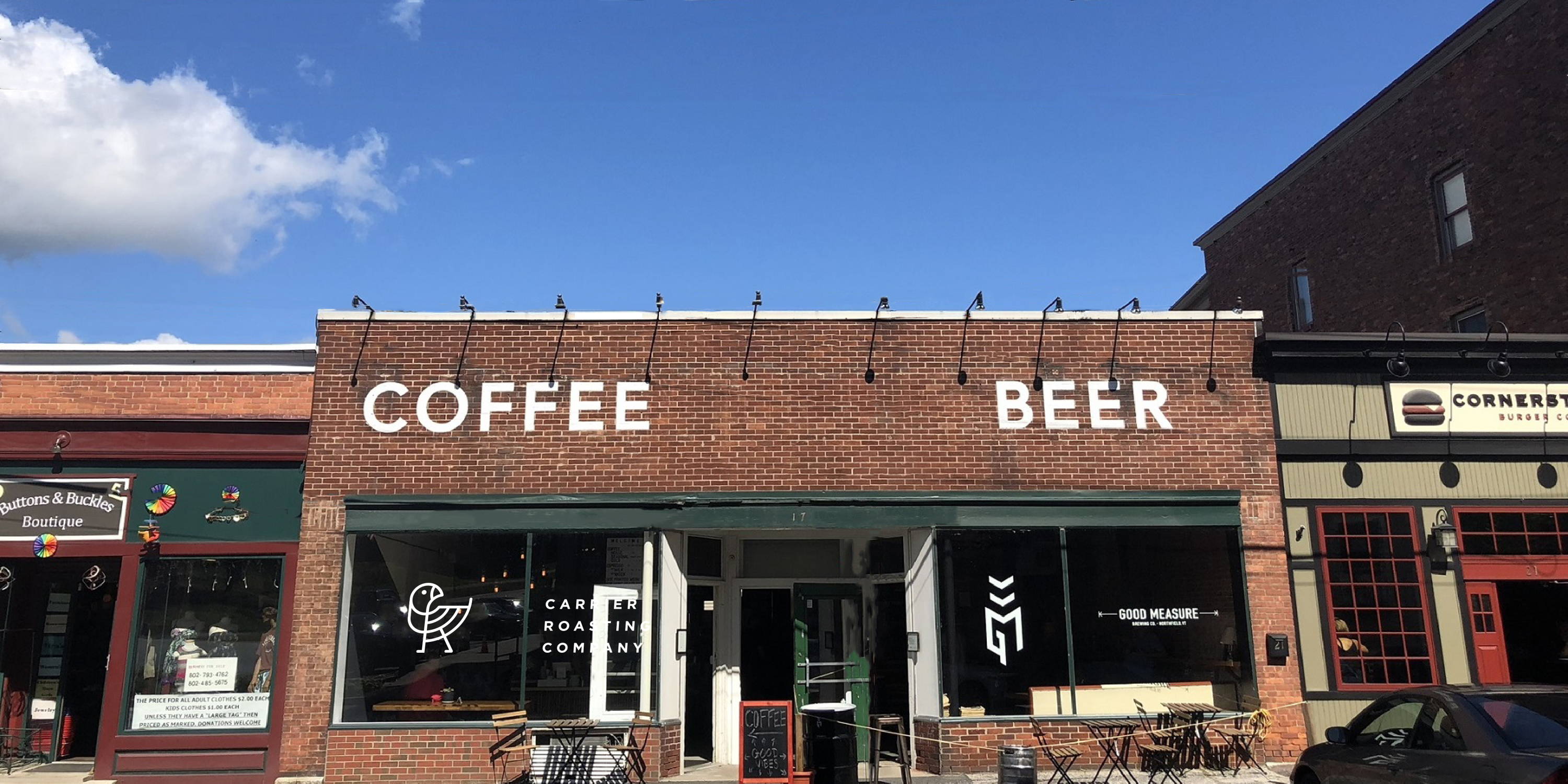 ---
Our full menu includes a range of coffee and espresso drinks, housemade mocha and chai, and baked goods from local bakeries.  
COFFEE
HOUSE  
SEASONAL MARKET PRICE
COLD  
ESPRESSO  
ESPRESSO w/ MILK
ESPRESSO w/ WATER
ADD-ONS
MAPLE SYRUP HERMIT THRUSH FARM
GOAT'S MILK CARAMEL FAT TOAD FARM
RAW HONEY BEE BOYS
CHOCOLATE HOUSE-MADE GANACHE
CINNAMON SYRUP INFUSED IN-HOUSE
OAT MILK
ALMOND MILK
SIGNATURES
CHAI  
SPICES, COFFEE CHERRY TEA, MAPLE, AND MILK
MOCHA  
ESPRESSO + MILK W/ HOUSE-MADE CHOCOLATE GANACHE
CADET  
4 OZ ESPRESSO + MILK W/ DASH OF MAPLE
NORTHFIELDER  
16 OZ SHAKEN ICED MAPLE LATTE W/ EXTRA SHOT
G.O.A.T.  
8 OZ ESPRESSO + MILK W/ CARAMEL + SEA SALT
NECTARINO
8 OZ ESPRESSO + MILK W/ LOCAL RAW HONEY
COFFEE SODA
ESPRESSO FLOATED ON SAP! MAPLE SODA + ICE
LOOSE LEAF TEA SONG TEA
SONG RED  
TYPE: BLACK
ORIGIN: FUJIAN, CHINA
TASTE: HONEYDEW, MAPLE SYRUP, ORANGE
FRAGRANT LEAF  
TYPE: GREEN
ORIGIN: SICHUAN, CHINA
TASTE: CUCUMBER, NASTURTIUM, RAISIN
PURPLE ROSE
TYPE: WHITE
ORIGIN: FUJIAN, CHINA
TASTE: LEMON, ROSE, SUMMER SQUASH
MEIZHAN YANCHA  
TYPE: OOLONG
ORIGIN: FUJIAN, CHINA
TASTE: ORANGE PEEL, COCOA, ANGOSTURA
CARROT  
TYPE: BOTANICAL (UN-CAFFEINATED)
TASTE: FALL IN NEW ENGLAND
INGREDIENTS: DRIED CARROTS + BURDOCK,
HONEYBUSH, GINGER, CINNAMON
KIDDOS
PLAIN STEAMER
MAPLE STEAMER  
CINNAMON STEAMER  
HONEY STEAMER  
OAT STEAMER  
ALMOND STEAMER  
SAP! MAPLE SODA  
HOT CHOCOLATE  
Assorted, locally made baked goods available daily.